CRYSTAL: Right, so we are at Hinterlands, a group exhibition at BALTIC looking at relationships with the land and its ecosystems. It's a slightly challenging one for us to review because we know a lot of the artists in this exhibition.
TOM: Yeah, it is tricky – not just reviewing but any encounter where you know the artist. It's harder to be precise about your response, whether it's to the work or to the person.
CRYSTAL: You want to treat their work with the same degree of critically as artists you don't personally know, but there's a greater desire to be kind, too. I studied with Laura Harrington and Uma Breakdown and I really loved Anne Vibeke Mou's work which I'd seen previously in a fab exhibition at MIMA. Given all that, I'm sort of wondering why we came here to review the show lol.
TOM: Well, I suggested it, so it's my fault! I'd forgotten that you knew half the artists. I actually pitched a review of this show to the usual art publications and no one was interested. And this is part of the reason we started The Penitent Review in the first place – to be able to cover the stuff that interests us. But mostly it was because it sounded like a great show. Thematically, Hinterlands the kind of thing I'm always interested in in terms of landscape and place. I've interviewed Uma in the past so I figured if they're involved it must be good. And the fact that it includes work by Emily Hesse, who died last year, was another big draw for me. It's another opportunity to see more of her work.

CRYSTAL: Yes, I know you loved her exhibition at The Tetley. I'm disappointed that I wasn't able to make it.
TOM: Yeah, it was properly brilliant, so it was a bit of a shame for me that there were only two of her works here at BALTIC, and maybe not my favourites if I'm being honest. But let's talk about the other works. What was your overall impression?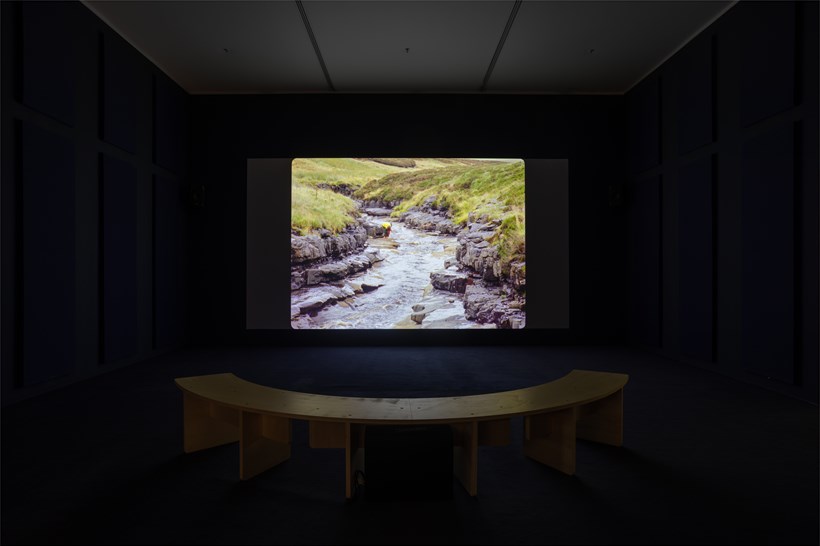 CRYSTAL: Honestly, I was a bit disappointed. I'm drawn to the themes, I like work by a lot of these artists, and I really wanted to love the exhibition, but it didn't quite win me over in the end.
TOM: What were you expecting to like?
CRYSTAL: As I said, I know the work of some of these artists quite well. Anne's glass pieces are often exquisite and her processes are usually very interesting. I participated in one of Laura's field working workshops a few years ago, which was such an amazing experience. Laura is super smart and generous and her workshops really engendered beautiful feelings of rootedness to the landscape as well as to the other workshop participants. And she ensured there was really delicious food, and a lot of it! For me, her work is really about the workshops — as opposed to the representation of the workshops — and the representation doesn't quite convey the same feeling as participation. But I suppose that's one of the main issues with being an exhibiting artist, right. You have to have something to put in an exhibition space.
Given that you haven't taken part in one of Laura's workshops, I wonder how the film read to you?
TOM: There was lots I really liked about it. I liked the bleak aesthetic, the trudging around and getting wet. I liked the sense of absurdity, digging around in the sphagnum mosses, putting contact microphones down there to listen in to boots and earth. It looked like fun! Plus, the slowed-down actions and the focus on the very small or invisible did some surprising things with my sense of scale – Suddenly, the simple act of walking on the wet bog becomes this epic narrative of destruction and recovery. Weirdly, it reminded me of those old Ray Harryhausen films. It also reminded me of my own walking, especially around the Dun Rig horseshoe near Peebles, which has a similar landscape of hill and peat bog. The weather was exactly like that in Laura's film when I was last there. As a piece of film-making it was quite straightforward and I did get the sense that the doing and being together was more important than the film in the gallery. I really *loved* Laura's peat hag drawings though, which imbued the earth with a sense of alluring strangeness.
CRYSTAL: We went round the exhibition in different directions. You watched Laura's video first and I came to it at the end, after seeing two other long video pieces. I think we were both videoed out in the end.
TOM: I totted it all up and there's around three hours of video in the exhibition. It's just too much. Especially given how much of it was about being outside in rural landscapes. It's a classic issue with 'nature art' as with 'nature writing' – I'd pretty much always prefer to go for a three-hour walk in the woods than sit for three hours in a gallery watching somebody else have all the fun.
CRYSTAL: I agree. I don't know what it is with artists and film works as durational punishment. Because we're both writers, we're used to editing being an important part of our working process. We're used to having to cut on the regular and checking in as to whether or not something really needs to be included. I sometimes think that artists aren't used to editing — either themselves or being edited by an external person like a curator — and maybe that's why we end up with all these hour-long films with painfully slow shots of plants blowing in the wind.
TOM: In fairness to this show, none of the individual works were outrageously long in themselves. It was just cumulatively that it became too much. And while I enjoyed Laura's work, I did feel that video wasn't necessarily the best medium for either Michele Allen and Dawn Felicia Knox, which is a shame because the research and the ideas behind the works were great.
CRYSTAL: I completely agree. I liked the subjects underpinning both Michele and Dawn's work a lot, but the video form wasn't doing much for their ideas. I don't think you liked Michele's project as much as I did. She was looking at an ancient woodland in the centre of an industrial estate and tracking the process of trying to get the site protected with a tree preservation order. I liked the sketchy nature of the photographs and the wall text, which were supposedly notes for the process of putting the film together, but truthfully, I preferred those elements to the film itself. There was a sense of the artist's voice coming through in the scrawled notes on the wall, next to the photographs, and of their interest in the forest and desire to care for it that felt missing from the film.
TOM: That approach is quite common in this kind of work – returning again and again to the same site, especially one that's very small or otherwise overlooked. It can be a productive method. I think this person clearly gleaned a lot from doing that and this comes through a lot in the attention to detail, the chance discoveries and the sense of time unfolding. Often the artist/writer in these kinds of things is quite a passive figure, like they're just a visitor treading lightly on the earth or whatever. But, now I'm thinking about the work again a few days later, I liked that the artist here takes on an active role, with a sense of responsibility towards protecting the site and all the complex legal and bureaucratic stuff that entails. In terms of the way the work was presented I liked the photography and the text, a kind of exploded journal, but the film was just not as interesting. When there's such a disconnect between the experience that the artist has making the work and the experience that the viewer has in the gallery, either it's a problem or something that needs to be embraced and accepted.
CRYSTAL: I felt something similar with Dawn Felicia Knox's work, The Feeling. It was another long video installation just across from Michele's, also touching on super interesting subjects —time, plants and pollution. Dawn was looking at plant fossils excavated from the Felling Mine, just east of Gateshead, in conjunction with plants growing on the site of the closed mine that naturally absorb industrial pollution from the soil. Phytoremediation is a subject I find hugely fascinating, but I don't think this work did justice to its topic, sadly.
TOM: Yeah, I mean, putting those two works that were visually quite similar so close together wasn't that helpful. By that stage, I was just thinking, like, do the curators honestly expect people to sit through all of this film? And if not, then why is it here?
CRYSTAL: It starts to feel like a sort of screensaver for the rest of the exhibition, as if they're just supposed to wash over you as background noise. OK, that's enough with the video works. What did you think about Uma Breakdown's Take The Moonlight by The Tail?
TOM: I'm still thinking about it so that's a good thing, right? I definitely got the allusion to those early text-based computer game adventures and I sat there for 15 minutes or so, clicking through. I really liked the aesthetic of it and I really liked the language – the way it wove together cyber and sci-fi with fantasy, crip theory, labour rights and disability politics, like those abhorrent fit-to-work assessments, for example.
I mean, I really liked everything that the work was doing, but I found the experience of engaging with it in an uncomfortable chair in a gallery setting kind of frustrating after a while. If that was online, I think I would have enjoyed it more. It's something I think I'd return to in a different context.
CRYSTAL: I was feeling pretty shit when we looked around the exhibition — I had a nasty stomach bug and was exhausted— so I was more than in the mood to sit at a little table on my own and click a mouse button for a while. I really enjoyed the text, for many of the same reasons you mention; it gave me weird prose poem vibes, which I liked. The game environment irritated the hell out of me after a while, though. Having to constantly find and scroll down a menu bar to get to the next click. It reminded me of using my university's VPN browser, which is just the most frustrating experience.
TOM: It's interesting that we've both used the word 'frustrating'. Uma is a super smart artist so if the work is frustrating you know that's deliberate. I didn't know how long the narrative would continue for, and each time I tried to pause to write something down or think about something else, a pop-up would ask me if I was still playing. I would have to quickly click for fear of having to go back to the beginning.
I liked that it took some of the traditions of interactive art and deliberately frustrated them. It actually performs a lack of agency. It embroils you in a narrative that you have no control over and asks you to keep the narrative going by constantly repeating a particular bodily action. I guess the difference between this and, say, those notorious Atos assessments is that, in the end as a mere gallery-goer, you do have some agency: you can just get up and walk away.
CRYSTAL: I know you really liked Jo Coupe's After the Rain, all the umbrellas. I don't think I really got it, so I'm curious to know what you liked about it.
TOM: It reminded me of Andrew Black's current film, On Clogger Lane, which is at The Tetley right now, and also Sara Bowler's work on Goonhilly Downs. Things around state surveillance and satellites, communication technologies, data… the presence these weird megastructures have in the landscape, in our minds. And I liked that they'd been made out of funny materials – like brightly patterned brollies and extendable handles for paint rollers. It felt like a playful, DIY rewiring of massive corporate-state infrastructure. Oh and the sound – this invasive low static thrum like that horrible generator outside our flat.
CRYSTAL: Did you actually read what the work is about?
TOM: Haha no. But that's because they didn't have any of the exhibition booklets left when we visited.
CRYSTAL: That hugely annoyed me. I watched the artist interview films in the cafe before we went in to see the show, but the wall text captions were thin on information. I read the booklet afterwards online, but you really get a different experience if you have more information about each of the works with you when you move around the space.
TOM: Yeah, I agree. Although now I read that it was about electricity and pylons, I don't think I was a million miles away…
CRYSTAL: What about Sheree Angela Matthews' work, The Country Journal of a Blackwoman (Northumberland)? I liked aspects of this and found some elements didn't work as well, but think you enjoyed it, too.
TOM: I found it interesting because it treads similar terrain to a lot of work I'm looking at at the moment around walking and rural spaces, especially in England and Scotland, as racialised, contested spaces. I'm thinking of artists and writers like Ingrid Pollard, Jade Montserrat, Amanda Thomson, Elizabeth-Jane Burnett, Jason Allen-Paisant… This is treading a similar path so I was approaching it from that perspective. I also liked the construction of a domestic space within the gallery through the use of shelving and wallpaper and doilies and knick-knacks, all imbued with specific narratives and meanings. The wallpaper was a nod to Ingrid Pollard and I think it's noticeable that the work is very explicit in acknowledging its forebears.
CRYSTAL: I also appreciated the use of domestic scenography here, which worked really well in connection to the themes Sheree was exploring. I was obsessed with her use of extended captions. The additional layers of texts brought something powerful to the work and really activated the objects on display. Picking up on what you mentioned about Sheree's use of antecedents and references, I liked this as an idea, but something about the specific references frustrated me. I couldn't get away from the feeling that a lot of the references came back to Ekow Eshun—both his recent documentary on the history of Afrofuturism and the In the Black Fantastic exhibition.
If an artist wants to make the work about their lived experience, I'm all for it. But for me, once you go down a route of bringing in theoretical references, I want them to read as rigorous. In the section when Sheree is talking about the ocean, the Atlantic, the slave trade and black bodies, I would have loved to see the words of Christina Sharpe or M. NourbeSe Philip in addition to (instead of?) references to Ellen Gallagher and Drexciya. That being said, I do think this is an artist with some really good ideas, but maybe they aren't quite yet at the stage of knowing how to handle them all when they've been given a lot of exhibition space.
I suppose it comes back to the point about editing. All of the artists in this exhibition have good, interesting ideas, but it really felt like a stronger curatorial hand was needed in the editing process to make the show really hum.
Hinterlands is at BALTIC, Newcastle until 30th April 2023.
Image credits (from top)
1. Installation view of After the Rain (2022) by Jo Coupe, photo Rob Harris
2. Installation view of works by Emily Hesse, photo Rob Harris
3. Installation view of Wild Things Inwards (2022) and In the Spoils of Flinty Fell (2022) by Anne Vibeke Mou, photo Rob Harris
4. Installation view of Fieldworking (2020) by Laura Harrington, photo Rob Harris
5. Installation view of The Weight of Ants in the World (2018-ongoing) by Michele Allen, photo Rob Harris
6. Installation view of The Country Journal of a Blackwoman (Northumberland)(2022) by Sheree Angela Matthews, photo Rob Harris