This piece was originally published on Apollo, 2016

'Art for me is about sharing. You have an experience and you want to share it.' I'm talking to artist Jussi Kivi in his studio in Kalasatama, Helsinki. Kivi is arguably one of Finland's most distinguished artists. He won the country's biggest art prize, Ars Fennica, in 2009, the same year he represented Finland at the Venice Biennale. Yet (apart from the Romantic Geography Society blog) he does not have a website and has not had a solo show here since 2010's exhibition at Kiasma, about which he subsequently wrote scathingly of the lack of payment. Since then Kivi has focused on just getting on with his work. I get the impression he likes it that way.

But now Kivi has a new book out – Hämäräperäisiä tutkimusmatkoja (or 'Shady Expeditions'). He has been giving interviews, and even claims to be working on a website. Comprising photography, drawing, maps and text (in Finnish), the book is Kivi's way of sharing his experiences with an audience outside the confines of the gallery. These experiences constitute adventures in an assortment of little-known or neglected places in Finland and internationally – underground service tunnels, collapsed mines, industrial wastelands, or abandoned military facilities – access to which is often dangerous and, at best, semi-licit. (Finland's laws on land ownership and access are very different to the UK's. Whether Everyman's rights extends to underground tunnels remains unclear.)

Inspired by the Romantic heroes of art history – Caspar David Friedrich, John Martin, and their forerunner Giovanni Battista Piranesi – Kivi produces beautifully composed photographs of a new kind of sublime: the terrible beauty that mankind leaves behind. Laura Gascoigne recently wrote that the sublime is becoming an overused term in contemporary art. But Kivi is attuned to the central irony of his own work.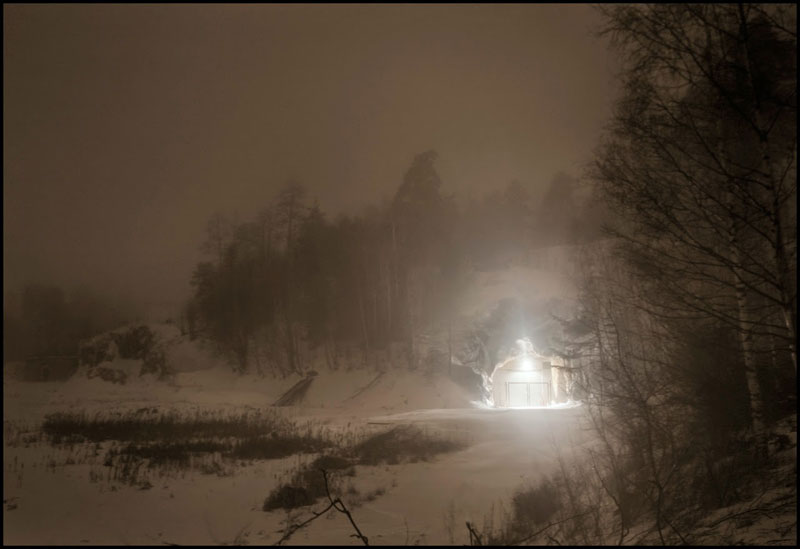 'As a young artist,' he tells me, 'I did these wilderness trips – to the so-called "real nature". There is a romantic idea in Finnish thinking about these backwoods. One tradition is that there are no roads. If you go there, you have to go there on foot or by skiing, and everybody is somehow equal.' The backwoods are also, in theory, a place of freedom – 'freedom from power and politics and from social control…But when I travelled to these places I found that it is not true.'

In a way, it never was. When Swedish surveyors began to map their territory in the 18th century, those areas that fell beyond the borders of demonstrable private use were established as the property of the King of Sweden. The Sámi reindeer herders and hunters did not count as farmers and so neither did the land they occupied count as theirs. 'Wildernesses belonged to god and the king,' says Kivi. 'Now the forestry industry has destroyed the ecology of the forest. They have carried out clear-felling and built roads everywhere. It is all controlled.'

In a 2012 article for Mustarinda magazine (published by a Finnish arts organisation of the same name) Kivi credits his youthful love of the wilderness to the influence of books like Martti Montonen's Suomen Peura ('Finnish Forest Reindeer') from 1974. Kivi writes with heart-breaking beauty of one particular moment in the ancient forest of Elimyssalo, saved from clear-felling by Montonen. While out walking, Kivi, to his surprise, recognises one particular tree, 'a thick, old dead-standing pine'. He writes:

'One of the hundreds of thousands, if not millions of trees in the forest and yet recognisable. It was familiar to me from the pages of Montonen's book, published some 20 years previously… So small, so lamentably small are our great forests that you can journey six and a half kilometres from south to north to see a forest, only to recognise individual trees, already familiar from books.'

While his writing is shot through with a sense of anger and loss, Kivi's art offers – perhaps – some kind of hope. For, in the overlooked wastelands of industrial society, he finds freedoms analogous to those of the romanticised backwoods. Such freedoms are shared via delicate sketches of hollowed-out mines, beautifully composed and lit photographs of underground sewer systems, and evocative treasure maps of ever-changing wastelands. It strikes me as ironic that Kivi would use some of the techniques of those Swedish surveyors. 'To make a map is to try to understand a place,' he says.

Even today, secrets remain. Kivi tells me of locked doors in the tunnels below Helsinki, of the thrill of the illicit. There are even rumours of a cannabis farm beneath Helsinki Cathedral. 'There are moments when you feel that there is freedom.' Kivi explains. 'An urban wasteland exists in a temporary state. It's not a park, it's not a parking lot, it's nobody's garden. It's free land, it's no man's land – for a while.'
Such edgeland landscapes may be overlooked in official narratives of regeneration or economic growth, but they are increasingly fertile ones for contemporary artists (and indeed writers). Kivi has been exploring such places since the late 1980s, and is arguably something of a pioneer: he has been teaching at University of the Arts Helsinki since 1989. Although he is sceptical of his impact on other practitioners, I feel I can detect the influence of Kivi's work upon the ideas of some of Finland's most interesting contemporary artists: the likes of Antti Laitinen, Maria Pääkkönen, or Sauli Sirviö.

Kivi let me accompany him and a group of students on one of his walks around Vuosaari, on the edge of Helsinki's eastern suburbs. Kivi is a puckish guide – knowledgeable and irreverent. He shows us the pipes bringing gas to Helsinki from Siberia, a ditch that a thousand years ago was a sailable straight ('Perhaps the Vikings sailed down here,' he speculates), the huts of hermits who once lived in these woods, and the caves dug from the bedrock by Russian soldiers during the First World War. Without Kivi as our guide, none of us would really know how to read these landscapes.

Vuosaari – a made-up word meaning something like Flux Island – is now being re-carved by landscape architects. They have transformed landfill into a butterfly meadow and parkland, complete with fake ruins and dead trees inserted in the ground in an echo of the landscape paintings of Akseli Gallen-Kallela. A vast container port has been built on the coast. The suburbs are coming.

Kivi asks us to see the landscape anew – as a place of alternative histories. He shows us what has been lost and what may come again. 'I used to worry I had missed the good old times,' he says. 'Now I'm more concerned about the future.'


Image credits (frop top):
1. Jussi Kivi, Fissure and steam from the depths
2. Jussi Kivi, Devil's den
3. Jussi Kivi, Tartaros, tunnels and deep giant stopes, map of level +80
4. Jussi Kivi, Whirlpool room,