This piece originally published on FAD, 2013

All aboard the Vaporetto dell'Arte! Here we are again in the city of canals and chicchetti, palazzos, spritz, gondolas, and phalanxes of lost, tired, hungry and ripped-off tourists. We that is, along with every other artist, gallerist, curator, critic, collector and assorted art world hanger-on from across the entire globe: yes, it's the 55th Venice Biennale, vernissage-time.
Day one, and despite weather forecasts of torrential rain (yeah, we packed wellies) it's actually a beautiful day.
Our first stop is the Arsenale – the former arms storage warehouses of the Venetian navy, now the heart of the Biennale juggernaut. Each year, the Arsenale, along with the nearby Giardini, and sundry grand venues across the city, play host to national pavilions that seek to represent the cream of that country's artistic output. In addition, the centrepiece is a large curated show, which this year comes with the rather lofty title of The Encyclopaedic Palace. So let's get started, shall we?
Tom: The inspiration behind The Encyclopaedic Palace is a 1955 application to the US patent office by Italian self-taught artist Marino Auriti, in which he proposed to construct a vast tower that could function as the repository for the entirety of human knowledge. In a classic art world move, this year's curator – Massimiliano Gioni – overlooks the intrinsic silliness of such a proposal and takes it as a starting point for a more or less interesting examination of the nature of knowledge and its production. Anthropology features strongly throughout – its predisposition towards the 'primitive' and its troubled colonial origins – in particular through works such as Ed Atkins' thought-provoking video portrait of the personal collection of Andre Breton, which also bears witness to the troubling spectre of psychoanalysis.
Crystal: Probably the first thing of note walking round is that the space is a lot cleaner, a lot less cluttered than the previous incarnation curated two years ago by Bice Curiger. The first three rooms are neat and tidy, and refreshingly spacious; it's all quite relaxing and I start to suspect that I might actually find something to like this year. Alas, a few rooms down the line and it all goes a bit jumble sale again.
Tom: It certainly seems to lose focus and clarity as the exhibition progresses, or maybe that was just me…

Crystal: I picked that up as well. In terms of work I liked: Kan Xuan's film installation, Millet Mounds – a massive bank of 70-odd screens, showing a series of micro films, was a moving and personal narrative history of China. Michael Schmidt's series of photographs – not quite reportage style – of the systems of industrial food production were also compelling. I see so many artists who have stumbled upon one great idea while digging in the archives or in old newspapers, it was refreshing to see Schmidt take an interesting subject and process it through the lens of his unique insight, knowledge, aesthetic and experience.
Tom: I think my favourite pieces were Lin Xue's amorphous fantasy landscapes, painstakingly produced using sharpened bamboo dipped in ink.
Crystal: That's exactly the kind of work you always like! Neat, detailed, painstaking, slightly obsessive and a little bit boring.

Tom: True, but I also found Van Caeckenbergh's tree/house photographic blurrings very intriguing; and I thought Simon Denny's work was brilliant – inkjet prints on canvas depicting outmoded analogue technologies. Nothing dates faster than technology.

Crystal: There was loads of crap, as always. What really wound you up this year?

Tom: Well we both made a conscious effort not to get as irritated by the rubbish as last year, and there was a lot of it. But that's art for you. One thing I am struggling with is all the vintage found photographs that everybody seems to be showing these days – reworked or not. It's a strong aesthetic and I think there was a point when it was interesting, but now that so many people are doing the same sort of thing, it feels very tired. So I found the presence of albums belonging to Cindy Sherman and the works by Linda Fregni Nagler pretty redundant.

Crystal: I really didn't like the blanket of snow cleanness that covered the boring stuff. I thought it was difficult to tell whether the curator was trying to show how much he knew of "outsider art" – which seems to be increasingly trendy, but it all sort of felt the same, looked the same. It's odd, because I really go in for the "anyone can be an artist" ethos, and, given the appropriate context, "anything can be art" argument (that still doesn't make it good), but I found myself getting increasingly irritated with the anthropological approach – reading over and over again at the beginning of each artist text: "so and so [almost always a man] grew up in a small town in the middle of nowhere, worked as a car mechanic for most of their life, while also making oil paintings of their crazy imaginings in a shed in their garden." It felt like Gioni just wanted to do a museum show; in fact, I might have enjoyed his exhibition more were I encountering it in a museum. As it is, we're at the Venice Biennale and I just didn't get the impression that he was actually interested in saying anything about the contemporary moment.

Tom: The outsider art thing is interesting. Obviously in London, we've had the Museum of Everything showing at Selfridge's, and the big Wellcome Collection exhibition, Souzou, which I actually really liked. There were some major similarities with that here: especially Channa Horwitz's painstakingly pointless little diagrams in the Arsenale, which were so similar to Shingo Ikeda's work at Wellcome. It makes sense though – clearly Gonti's aim is to examine what it means to be 'encyclopedic' by examining what has so often been excluded throughout history, and that means what gets defined as art and what doesn't. Hence the focus on anthropology, 'outsider art', found objects, museum-style archiving and display etc

Crystal: One work we were both unsure of was Danh Vo's temple. I mean, why ask an artist to bring a temple, instead of just bringing the temple?
Tom: Yeah, I was beginning to really like that piece until I realised that was all it was.
Crystal: What about the pavilions in the Arsenale? I was really impressed by the Italian pavilion – I think we both liked it, but what a transformation after the mess of two years ago! Hats off to curator Bartolomeo Pietromarchi. Francesca Grilli's singing to water dripping down an iron sheet was wonderful and surprising; while Luigi Ghirri's selection of photographs by 20 different photographers split into 10 thematic sections were lush, beautiful to behold. Petrit Halilaj's pavilion made entirely of roots at the Republic of Kosovo was quite cool as well, but what a shame about the Lebanese pavilion. I'm so bored with artists who find a great idea but then can't deliver a work which upholds the promise of that great idea.
Tom: I think you've written about this before, but I certainly remember we discussed this issue after Catherine Yass' last solo show at Alison Jacques. Here, it's a similar story, as Akram Zaatari tells the fascinating tale of an Israeli bomber pilot, realising that he was being asked to bomb a school outside the city of Saida in South Lebanon, refused the direct order. It's just a shame that Zaatari's contribution here is a ponderous and lacklustre video piece because the story – true, it turns out – is truly inspiring.

Crystal: What else was good?

Tom: I thought Wang Qingsong's photographs in the China pavilion were genuinely hilarious, but the rest of the work there did nothing for me. I liked the Bahamas pavilion – a group show exploring environmental themes – although possibly not as much as I wanted to.

Crystal: There wasn't really anything else in the Arsenale that excited me, though I adored Ragnar Kjartansson's S.S. Hangover – a beautiful little boat full of 6 brass musicians playing a sweet tune composed by Kjartan Sveinssonto… Only in Venice. Loved it.
Tom: From the Arsenale, it was over to the Giardini, the other main focal point of the Biennale. Here, I was really intrigued by the JM Coetzee-curated Belgium pavilion. Coetzee is one of the great 'post-colonial' novelists and I thought his short intro text set the tone beautifully. The ideas at play were great, simple but provocative – the entwining of something resembling mankind with a crippled kind of nature. The work – a colossal sculpture of a fallen tree, its branches intertwined to form a single trunk-limb, patched up and bandaged, pollarded and felled – was especially powerful under a grey, gauzy, slowly waxing gloom. But, the atmosphere drifted perhaps too far towards fantasy I think. It's one I'm still not sure about.
Crystal: It's a shame as I was very much looking forward to seeing how Coetzee – a favourite writer of mine – worked as a curator. Unlike you, I didn't really feel that his text set the tone; I didn't feel his hand much at all in the installation, though perhaps that's no bad thing. I didn't connect with the sculpture either – the whole thing just didn't come together for me. But I enjoyed Lara Almercegui's installation in the Spanish pavilion, simple though it was – huge piles of building materials: cement rubble, glass, smashed roofing tiles. The piles represented the precise amount of the same material used in the building of the original pavilion structure. Simple and lovely but quite effective, though the whole thing would have been far more powerful without the asinine wall text. Russia was also brilliant fun: a looped system of coins tumbling from ceiling to floor to bucket to conveyor belt and back again. It's one of the few "interactive" artworks I've ever encountered where the system depends utterly on the participation of visitors. The artist, Vadim Zakharov, got extra bonus points from me given that the participation was limited exclusively to the female visitors.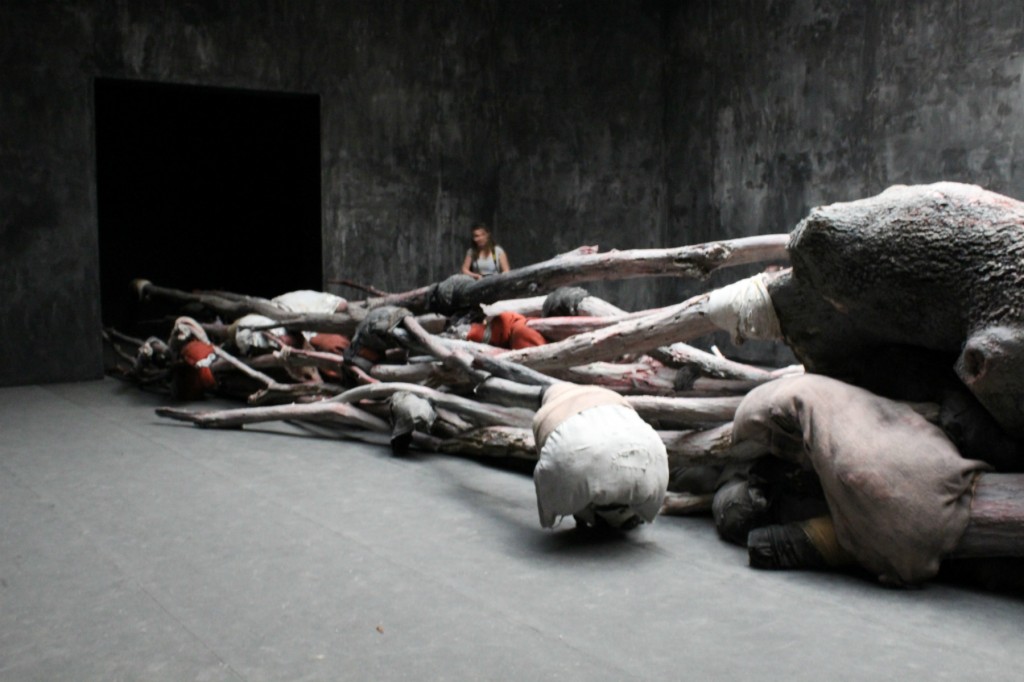 Tom: I was slightly disappointed by the Australian and Nordic pavilions – partly because there was much to like in both – and the same could be said for the Finland pavilion, which was a real shame as I love Antti Laitinen, but it just didn't quite come together in that tiny little space. Unlike last time when Vesa-Pekka Ranniko's site-specific video piece was the best thing in all of Venice by miles. Ditto, the Holland pavilion, which would have been amazing were it not for the intrusion of large-scale figurative elements, which rather reduced the potential of the pieces on show, I thought.

Crystal: Yes, I didn't like that work at all, actually, despite the fact that most of my Twitter feed seemed crazy for it. Ditto with Japan and Austria – two other pavilions many vernissage attendees adored. Japan was even awarded a special mention in awards dole-out, but I thought the whole thing was a mess. Intervention art is brilliant and fascinating and ticks a lot of my boxes, but I think we're still largely unresolved in how to best represent these kinds of artworks in an exhibition context, and I don't think the Japanese pavilion successfully managed to transmit Koki Tanaka's work in a visually appealing and engaging fashion. I wanted to leave 30 seconds after I entered.
Tom: Thence to the British pavilion, and the man of the moment, Jeremy Deller, who I have to say I'm not a fan of.

I really hated this – Deller's pseudo-inclusive schtick really riles me because it's the same old self-serving art cliques who benefit from his success and 'the people' who he seems so keen to represent don't really stand to gain a thing.

I've written about it before, but it's a terrible indictment of today's publicly funded art world that Deller's History of the World is owned by the 'British people' no less than four times over (in the Government Art Collection, Arts Council, British Council and the Tate). His pavilion includes some interesting old news stories – the suicide of Dr David Kelly, for example, or the shooting of two rare hen harriers on the Sandringham Estate – but Deller adds little to the conversation, beyond raising awareness. He's also included drawings by UK prisoners, and it's possibly churlish to speculate whether, like Deller, these artists were also flown over to Venice by the taxpayer-funded British Council. There's an unintentional moment of irony in Hal Foster's accompanying text, in which he argues that "In the age of neoliberalism… the truly potent magic is precisely th[e] ability to turn public resources into private gains." This is exactly the charge you could level at the perennially Tate/ICA/Artangel/Arts Council-championed Deller. On the plus side, at least there was tea being served at the back, and the queue was more orderly than most.
Crystal: And on that note, it's time for a spritz!
Part two here.